Every woman wants to feel confident and comfortable in her skin. That is why picking a women's dress for the night should be done carefully. Choosing the right evening dress for our body type is not always an easy task. It's important to choose such an evening dress that matches your body type, enhances your favourite features, hides perfectly your imperfections and it's super comfortable for wearing. It should also correspond to our personal clothing style.

Picking the right evening dress is not as simple as just going to a store and buying the first dress that catches your eye and fits you. A dress should make our figure look amazing and give us the comfort we need. It has to be made for our body and suit our personal preference. Remember there is no perfect body, there is no perfect size.
The right dress has not only the right pattern or color but it's also good-fitting. There are some factors to consider when choosing the best evening dress for you:
Type of Event
Remember, there is nothing worse than looking out of place at an important occasion. Before buying a dress we should consider if it's appropriate for the specific occasion (whether it's fancy, formal, semi-formal, simple, casual).

We can never go wrong with a simple-design classic style dress that can look good at any event. Avoid wearing extravagant and glamorous outfit at a casual night out or wear plain and tasteless dress at an exquisite event.
Style
When it comes to style in the case of women's dresses sometimes less is better than more. No matter what is the occasion(casual or super formal) we should pick a dress that enhances our body's favourite parts without making compromise with our individual style. The good evening dress will put the focus on you as a whole and not just on a specific part of the clothing. Simplicity is always a good idea wherever we go and it looks elegant and feminine.
Body Type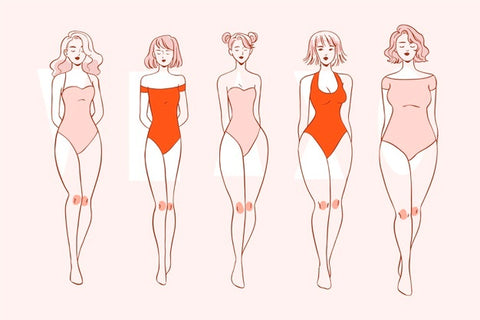 While an evening dress can look amazing in the clothing store, when we wear it, it may lose some of its appeal since everybody is different and every type of dress stays different. Therefore we should focus on evening dresses that "hide" our undesirable features and bring the best one on show. If you are not sure what type of dress will suit your body type, just stick to A-line dress, V-neckline evening  dresses since they are always in fashion and suit most body types.
Simple Evening Dress Options According to Body Type
Pear Shape
If your body is pear-shaped then the best evening dress for you is that which is not 1 inch or 2 shorter above the knee. A-line skirt is suitable for this body type, but make sure it's not too full as it's similar to a tu-tu.

Since our lower half is wider, to balance our look we can make our upper half wide by using bright colors horizontal stripes. Pick the lower half to be in darker shades. It's best to choose two pieces dress than one-piece dress.
Apple Shape
If you have this body type you have big waist and you need to visually elongate your torso and divert the attention from your waist. Pick an evening dress with an empire or drop waist. Don't wear thick belts, instead opt for a slash belt or chain. In this case we should bring the attention on our shoulders.

Use for this purpose a structured jacket that ends mid-hip or wear a dress with cap sleeves or billowy sleeves to cover the shoulders. Pick the upper half with enough details on it.
Slim Shape
Adding layers to an evening dress is perfect option for slim and athletic women who doesn't have much curves. Ruffles and peplums on the lower half are a good choice.   If your body is thin, avoid wearing knit or sweater dresses.
Choosing a cardigan or fitted jacket creates bulk in the whole look. Wearing a thick belt adds more definition to our waist and a bubble-type dress gives the illusion of a wider waist.
Small Bust
If  you weren't endowed with sizeable breasts, stay away from dresses with dropping necklines. Choose instead a dress with bandeau-type neck, sequins, or some type of other decoration to add some bulk to your upper half. We can achieve dimension also by adding layered necklace. A-line dresses with a skirt that ends an inch or two above the knees suit perfectly this body type.
Sift dresses are amazing option for women's evening dresses since they suit every body type. They hang straight down from the shoulder that looks flattering on every type of body.
Color
When picking an evening dress we should choose a color that matches our skin tone. The chosen color of the dress should not make us look off. If you have dark skin, you should avoid very bright colors or lemon or orange and neon. Evening dresses in black fit women with all skin tones, but be careful when mixing the colors.
Accessories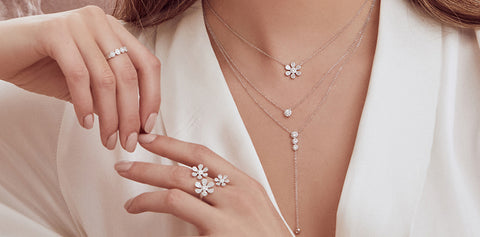 Accessories can be our friend and our enemy depending on how they are used and combined with clothing. If our chosen evening dress is flashy and there is a sufficient amount of eye-catching details on it, then we should focus on simple-looking accessories.

On the opposite, if our evening dress has a free of details simple design, then we should feel free to add more statement accessories that will give it a complete look like necklace, earrings, bangles, belt, flashy clutchbag or a purse.

Extra advice:

If you are going to attend a special formal event such as a wedding, it's recommended to wear it for a about a week before the event. This will help you decide if you are feeling really comfortable wearing that type of dress for a long period of time, if it's possible to make some adjustments to it. Do this if you suppose that you have lost or gained a few pounds and wonder if the dress will fit you again.