Whether it's a fairytale spring soirée or whimsical winter wedding, we can't imagine a bride walking down the aisle sans a bouquet flourishing with fresh blooms and greens, can we?! No matter how gorgeous and expensive a wedding gown you are donning, it's your bridal bouquet that completes your bridal look! Flowers are one of the world's most easy-on-the-eye expressions of beauty. They delight and inspire us! From a single sprig of a rose tucked in your boho braid to two carnations in your BAE's boutonniere, to a string of freshly-picked daisies on your flower girl's head, to a bout of ranunculus in the corsage around your mother in laws' wrist, to heaps of tons of blooms adorning the wedding arch, to a cluster of white orchids, roses and hydrangeas flooding the centerpieces, to seasonal flowers in a bride and her girls' hands, blooms are to elevate aesthetics. They are magic that can be caressed, smelled, worn, and hugged!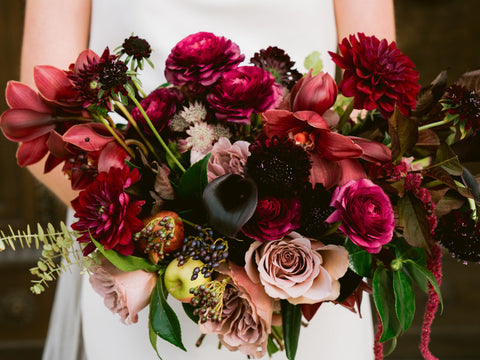 Hey winter bride, it's completely okay if you want to carry a bouquet of your favorite flowers (that are available in every season) down the aisle, but giving a nod to the season you are getting hitched in with a winter bridal bouquet is something that will take your big day look to the next level. Incorporating seasonal flowers not only saves you a fortune but also ensures your special day will be filled with fresh blooms that didn't have to be imported from the other side of the world. If you think winter means lesser flower choices, there's actually a fabulous array of blooms to choose from. And bonus? Swoon-worthy wedding photographs of you and your celebration with the best of in-season flowers around! You sure want to have stock photo-inspired shots of your wedding rings or bands placed on your charming holiday-inspired bouquet to add that much-needed slice of the festive season to the wedding photo book! Like Miranda Kerr, an Australian model and businesswoman says, "A rose can never be a sunflower, and a sunflower can never be a rose. All flowers are beautiful in their own way, and that's like women too.", you can't dislike any flower! If you are not sure which flowers are available in winter, and what types of arrangements mirror all that you love about this frosty season, then this blog is for you. Whether you are hiring a florist or want to go the DIY route, these breathtaking winter wedding bouquets are sure to bring a million-flower smile to your face now and on the big day:
A fine and dandy arrangement of berries & greens
Tying traditional holiday colors in similar tones together can make an awe-inspiring winter wedding bouquet. Consider incorporating various tones of red like peach, burgundy, and pink with a hint of greenery in different hues to get gorgeous results. A splash of red and green in the form of red berries and wintry greenery amidst the sea of white blooms can take your bridal bouquet notches above! You could use winter berries, holly berries, cranberries, or silver brunias that are nothing but sage-green stems ending with fluffy, silver-gray balls. To make your bouquet create an illusion that tiny, cute snowballs are stuck in it, this is the flower for you! It's often used to amp up bouquets with icy-blue or burgundy tones. If blue is there in the wedding color of your choice, opt for juniper berries instead. A hardy and resinous shrub with pungent green or silver boughs, sturdy wood and blue, green and silver berries, juniper berries make it to the list of our favorite winter botanicals. A little sprinkling of it can go a long way! For a cutesy peek-a-boo effect, pepper it on your bouquet featuring dense woodland of white roses or baby's breath.
Monochromatic white wintry bouquet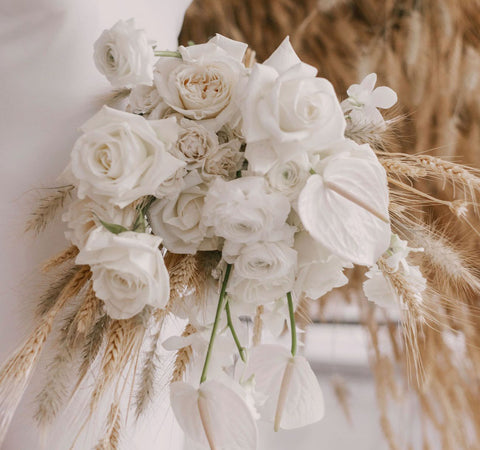 There was a time when mono flower wedding bouquets were all the rage in the wedding world, but now with a slight revision of this trend has given us – monochrome wedding bouquets that are every bit gorgeous with a mix of various flowers but in a monochromatic color palette. You don't need a New Year's Eve fascination or holiday reds for your festive wedding falling between December and March. Pick out something out-of-the-box for your bridal bouquet and embrace the cold and stillness of winter months. You may consider a bouquet composed of a wintry mix of white blooms in different textures for your all-white winter wedding. Think of some brilliant frosted florals like white roses, poinsettias, daisies, orchids, tulips, lilies, white carnations, and wild carrots (aka Queen Anne's lace)! Such wedding bouquets are a super bold statement that is sure to make you stand out on the wintry big day. White is not the only choice for a charming monochromatic bridal bouquet tho! A bold fuchsia wedding bouquet with amaranthus and some textural greenery plus black ribbons is equally gorgeous and perfectly adds pops of vibrant hues to the bridal portraits with bokeh!
Bouquet with a splash of jewel tones
No doubt white or pastel blooms are worth their weight in gold, but not everyone is a fan of white when it comes to flowers! Use what is available and in-season, from ranunculus to tulips, citrus fruits, eucalyptus, and dried floral accents, and tap your florist to incorporate jewel tones in the bouquet. Give a nod to the recent shift toward deep, jewel-tone bouquets that are ideal for your cold-weather wedding with floral arrangements bursting with deep shades and rustic stems. Think crimson amaranthus with berries, red roses, and ranunculus with eucalyptus leaves, or cherry-colored dahlias, and dark berries with dusty mauve leaves- these combinations take the cake when it comes to jewel-toned wedding bouquets for chilly weddings! Rustic burgundy proteas+amaranthus+thistle, blush+merlot dahlias+blue tweedia+amaranthus, magenta peonies+crimson roses, pink proteas+roses, red dahlias+ranunculus+orange kangaroo paw, oxblood ranunculus+cornflowers+white roses, and oxblood ranunculus+cornflowers+white roses are some of our favorite combinations for that show-stopping bridal look!
A glamorous wintry display in hand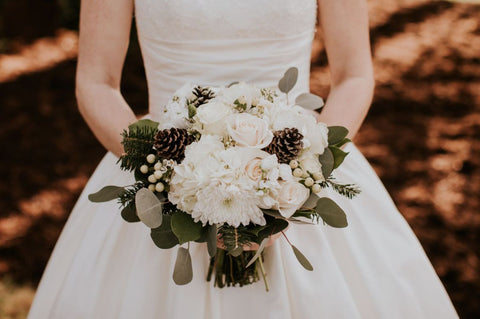 An all-white color palette is a granddad of all the other wedding color palettes when it comes to exchanging vows in chilly weather, you don't necessarily go for all details in stark white. You can catch the crystalline beauty of winter with dramatic silver and rich reds or the clubbing of two for your indoor winter fête! Blend the elegant silver with white arrangements - a big-time choice for flowers for winter brides. Think silver leaves, sequins and tendrils of silver ribbon, and delicate, graceful snowdrops, and voilà! Enjoy a glamorous wintry display, the reincarnation of your classic white assortment. Don't hesitate to invite white-tipped pine cones, mistletoe and marabou feathers, blue-gray juniper boughs, sage green lamb's ear, and silvery dusty miller leaves to your big day for a remarkable frosty effect to reflect the snowy season. If it's a Christmas wedding, then all the more reason for you to use Christmas wedding flowers in your festive wedding bouquet. You might want to strike poses for striking bridal portraits holding a pinecone wedding bouquet like this gorgeous country bride, combining wheat and pinecones at your countryside Christmas wedding. If you don't want to be so obvious, you can select softer shades of red and green. And for your city wedding, you can't go wrong with the addition of hypericum berries (used as a filler and not a focal piece), lacy sprigs of arborvitae, red berries, and holly to your dazzling seasonal bridal bouquet. After all, who doesn't love holiday red flowers like velvety, perfectly opened amaryllis blossoms?!
Add unexpected textures for a bouquet that's cat's whiskers
This winter bouquet idea guarantees a bridal bouquet that will become the talk of the town! Say hello to the unique textured flowers, foliage, and even fruits when your favorite spring flowers say goodbye! The warmth of evergreen tones looks breathtaking in winter weddings. You'll really not miss spring and fall flowers with seasonal flowers like protea (including king, blushing bride, and pincushion variants of it), pansies, leucojum, camellia and others making their way to your winter-inspired bouquet. Bring some drama to your nosegay with lots of textured greenery. Allow your florist to make you a bouquet loaded with winter botanicals that are a heavy hitter like pieris, dusty millers, spray roses, and seeded eucalyptus! Steal the show with a unique-looking bouquet that combines burgundy kangaroo paws, white roses, and dashing greenery.
A rad red bouquet for your red-letter day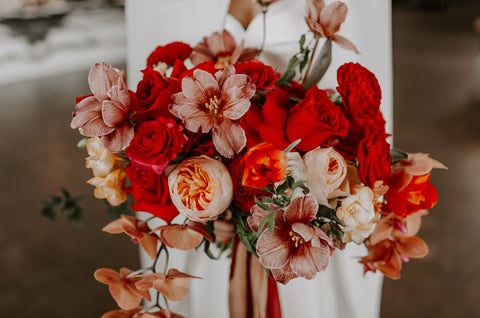 Lush red flowers and matching berries are winter BFF! So don't shy away from embracing the season's most famous color: red to take your bouquet to the next level. Be all eyes by walking down the aisle holding a wintry nosegay chock-full of only red roses, all tied with red ribbon, and seeded eucalyptus craning out of the lovely bunch. This mini ravishing red-on-red mini bouquet by Marie Florals is giving us IRL heart-eyes! Deep red dahlias and organic eucalyptus leaves come together to run the show. Paint the town red with an unexpected floral chandelier-like creation! How? Here's the recipe- add a deep-hued bougainvillea to a tonal bouquet of garden roses, berries, and burgundy foliage. You may also give the responsibility of making your bouquet of red roses a cut above the rest to waratah, lush greenery, and branches of berries. And if all-red is not your scene or fitting the bill as per the wedding theme then hit on all winter floral trends by passing the buck to evergreens, berries, and textures, as you already know! 
Embrace fruits to bring your dream bouquet to fruition
The customization doesn't end with the flowers and foliage! You can swap out accenting fruits. Seasonal fruit is a clever way to incorporate seasonal color and add volume to your bouquet. If you'd like to try it. The inclusion of seasonal fruits will not be the flies in the face of your winter wedding theme, trust us! After spilling ink on a variety of berries available in the winter season, it's time we talk about something outside the box! Small textured pineapples, uniquely-shaped celosia and gentle columbine flowers are not the new kids on the block but can give you an innovative arrangement to complete your bridal ensemble when come together. Besides pinecones, these funky kids are also a fun and unforeseen addition to your bouquet. IMHO, the bright colors and varied textures also make your winter bridal bouquet the perfect pair for any bride who is looking for winter wedding bouquet ideas that are few and far between!
An organic bouquet is the bee's knees in every way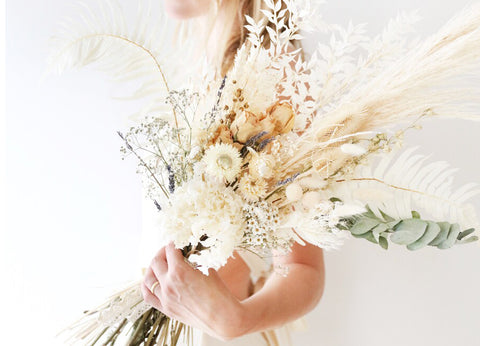 Be ahead of the pack with a bouquet made of all things organic! Eco-friendly wedding bouquets have become a favorite in the wedding world, regardless of the wedding season. And you already know why! No doubt, the above-mentioned fresh-from-the-garden flowers prove that the chilliest time of the year is still as pretty as a picture. But dried flowers also look as cool as a cucumber with your winter wedding day ensemble, besides being a nice addition for autumn weddings. The joy of joys is that you can keep them as a decor piece or keepsake for a long time! You can steal the show by walking the aisle holding a unique bouquet accessorized with dried artichoke and lotus pods. And if our crafty DIY diva wants to take charge of her wedding bouquet then here are the ideas for DIY eco-friendly wedding bouquets. You can save a fortune by procuring your flora needs (don't forget bridesmaids' bouquets!) at a wholesale market. Or you can simply order bouquets of dried flowers including dried craspedia red billy ball bunches on Amazon or can pick and dry your own flowers for your wedding bouquet. So set the stage on fire with a pretty bridal bouquet that was hiding somewhere in your nana's backyard!

Winter is the perfect season for embracing simplicity and minimalism. And on top of everything else we're huge fans of winter greens, we really are! And ditching those ponderous garden-inspired bouquets for winter woodland-inspired bouquets is sure to cut the mustard! A bridal bouquet is not one of those wedding details that wedding guests don't bother about much, but you can have your guests wowed with this kind of small detail. A bridal bouquet is indeed an essential detail that completes the bride's wedding day look, just the way a ribbon on the gift box does. Oftentimes it helps groomsmen and bridesmaids to coordinate their look with one another if you don't want a too-much matchy-matchy look. Therefore, it only makes sense, to choose an assortment of botanicals for your cold-weather bridal bouquet that reflects the season you are saying 'I do's' in!